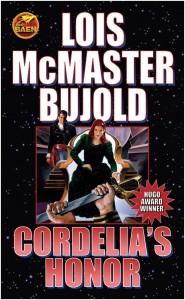 I finished reading Mona Lisa Overdrive and my only disappointment is that there are no more installments in that series.
Once again, in my search for reading material I started to scour Reddit and was pleasantly surprised to learn of a Sci-Fi series posted for free download by the publishing company Baen. The first book that I'm reading in the Vorkosigan Saga is:
Cordelia's Honor by Louis McMaster Bujold
This is an Omnibus; one book containing more than one novel. In this case, it includes Shards of Honor and Barrayar. I've already finished the former and just started the latter. Bujold weaves a very believable future universe where humans have inhabited multiple planets, travelling between them through a system of wormholes. Each planet has been colonized long enough to form their own independent societies that are sometimes at war with each other.
The character development is quite good, and I appreciate it that Bujold has a no-nonsense narrative style that places you in the story. She doesn't gloss over or romanticize the realities of being human, running a government, or waging war. To complement this unpolished realism she has a keen sense of strategy, both political and military, and uses them to twist the reader's perspective in a way that makes the story a psychological thriller at times.
Establishing the reading order of this series is a bit of an issue, mainly due to the combinations of several stories into omnibus volumes. I'm using the following reading order which was posted as a Reddit comment:
Cordelia's Honor
Young Miles
Miles, Mystery, Mayhem
Miles Errant (Note: A book called Memory goes here, not included on that page.)
Miles in Love
Miles, Mutants & Microbes (Includes the book Falling Free, which is the first story in the series's internal chronology. Also contains the novella Labyrinth, which also appears in Miles, Mystery, Mayhem).
Cryoburn
I usually check out books from the public library, but in this case you can download it in the format of your choice both free and legally: