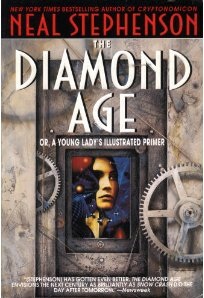 I'm always looking for the next great book to read and more often than not that's a science fiction book. I've spent my fair share of time trolling through some extremely long comment threads on Reddit that cover reading recommendations and that's where I found what I'm reading right now:
The Diamond Age by Neal Stephenson.
If you're not familiar with this author you really need to be. My first experience with his work was the novel Snow Crash. Just like the first few pages of The Grapes of Wrath, you know you're in for a special treat. Well, it's really not fair to compare those two books, but when the first several pages are devoted to describing what pizza delivery in the future will be like you'll either love it or stop reading. If you're not willing to give an entire novel a try with this new author and if you know anything about operating systems, you'll love his essay In the Beginning was the Command Line. I read it in one sitting and you can too — he's published it online for all to enjoy. But I digress.
The Diamond Age takes place mostly in near-future Shanghai. It follows the life of several children growing up under very different conditions in a Prince and Pauper sort of scenario. Warmly embracing the very human story is a rich envelope of plausible future technology, with emphasis in nanotech and how it will change life as we know it. One of my favorite sentiments from this work is when a character looks around at the raised highways, now deserted, and mentions that most of the infrastructure built in the 20th and 21st Centuries was dedicated to moving stuff around. This is a concept that is virtually abolished with the advent of The Feed. Give this book a try, you'll love it!
I always recommend checking out books from your local library. But if you're the kind that likes to own your books here's a quick link to the paperback version and the Kindle version.